Guangzhou International Fluid Exhibition & Pump Valve Pipeline Exhibition
Guangzhou International Fluid Exhibition & Pump Valve Pipeline Exhibition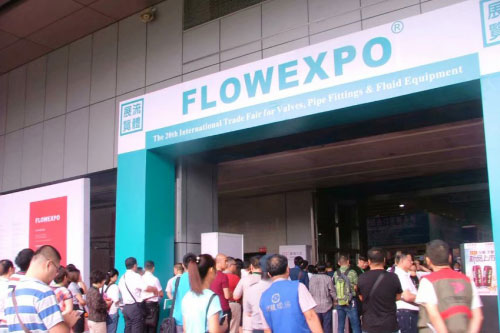 Exhibition Date: May 16-18, 2019
Location: Exhibition Center of China Import and Export Commodity Fair (Pazhou). No. 380 Yuejiang Middle Road, Haizhu District, Guangzhou City, Guangdong Province
Exhibition details
Flowexpo, the 22nd Guangzhou International Fluid Exhibition and Pump Valve Pipeline Exhibition, was founded in 1997 and is held in Guangzhou once a year. It is recognized by the industry as "exhibition specialty, audience alignment, remarkable effect", and it is a recognized brand exhibition in Guangzhou. Our exhibition is one of the largest, most specialized and most advanced exhibitions in the fluid industry. It is an important channel for brand display, engineering procurement, technology procurement, supporting cooperation, user negotiation, import and export, distribution agent and OEM.
Flowexpo is located in water/purified water/sewage, hot water/steam, oil/natural gas/gas, air/compressed air/fume, industrial liquid/gas/powder/mixture processing, processing, transportation, measurement and control engineering. Flowexpo is not only a platform for Industry Exchange and trade cooperation, but also a wind vane that has a far-reaching impact on industry development.
Flowexpo attracts more than 10,000 professional buyers and suppliers from more than 40 countries and regions every year. It is a global industry exchange and B2B trade fair. Along with the implementation of national strategy. We invite the visiting professionals from all walks of life to visit. So that exhibitors will face business opportunities along the way. Let exhibitors get real export opportunities.
Activities during the same period:
International energy chemical and pump valve technology summit
A round of fluid machinery and global valve pipeline Symposium
Technical Exchange Meeting on Chemical Environmental Protection Water Treatment
The 22nd Guangzhou International Fluid Exhibition and Pump Valve Pipeline Exhibition in 2019 has:
20,000 professional audiences;
500 exhibitors;
The exhibition area is 20,000 square meters.
The main exhibits of this exhibition are:
1. Fluid control equipment: valves, control valves, actuators, valve bodies, accessories.
2. Fluid Instruments: Thermometers, Pressure, Flow, Level, Analytical Instruments and Automatic Control Systems.
3. Fluid delivery system: pumps, compressors, fans, vacuum equipment.
4. Fluid transportation pipelines: fittings, pipes, pipes, pipeline systems.
5. Fluid treatment process equipment: heat transfer, mass transfer, reaction, separation, drying, storage pressure vessels.
6. Fluid environmental protection equipment: fluid filtration, water treatment, sewage treatment, air purification, desulfurization and dust removal, environmental protection equipment.
7. Fluid Cooling Equipment: Cooling Tower, Cooler, Water Chiller/Unit, Heat Exchanger, Condenser
8. Fluid transmission system and sealing components: fluid sealing system, hydraulic components, pneumatic components, sealing materials, sealing devices, etc.
9. Fluid machinery accessories: casting forgings, flange gaskets.
This exhibition is designed for people in the following fields:
Emphasis will be placed on inviting industries such as energy, power, petroleum, chemical industry, daily chemical industry, paint, biomedicine, metallurgy, paper making, municipal construction, construction, water supply, gas supply, sewage treatment, environmental protection engineering, machinery manufacturing, plastic machinery and medical equipment.