1 piece ball valve supplier
See detail here: 1 piece ball valve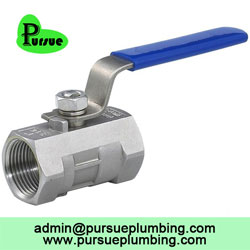 1 PC ball valve

PS101000

DN15

1/2"

PS101001

DN20

3/4"

PS101002

DN25

1"

PS101003

DN32

1-1/4"

PS101004

DN40

1-1/2"

PS101005

DN50

2"

PS101006

DN65

2-1/2"

PS101007

DN80

3''

PS101008

DN100

4''
Related product menu:
PURSUE is 1 piece ball valve supplier and 1 piece ball valve manufacturer. We supply 1 piece ball valve
FAQ
Question: How to control the quality of ball valve?
Answer: 1)Select high quality raw material.
2)Strict required during machining.
3)Seat material comply with food grade.
4)Tested twice to insure zero leakage.
Question: What is your payment term?
Answer: 30% prepaid as order deposit; 70% paid before cargo delivery.
Ask for prices: admin@pursueplumbing.com
keywords: 1 piece ball valve, 1 piece ball valve manufacturer, 1 piece ball valve supplier. PURSUE is 1 piece ball valve supplier and 1 piece ball valve manufacturer. We supply 1 piece ball valve
keywords: 1 piece ball valve, 1 piece ball valve manufacturer, 1 piece ball valve supplier. PURSUE is 1 piece ball valve supplier and 1 piece ball valve manufacturer. We supply 1 piece ball valve